Home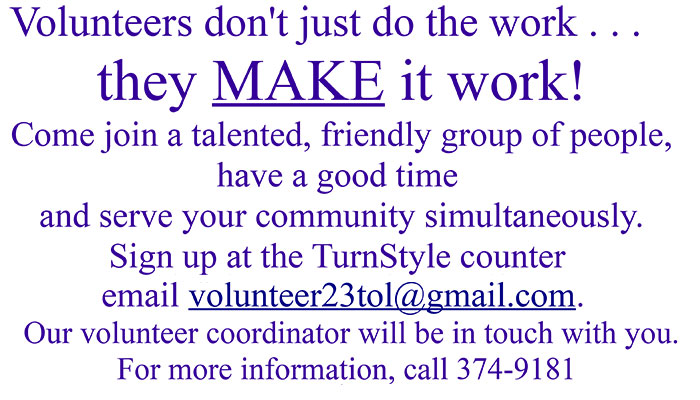 The Pantry is open every Thursday from 9 am to 3 pm. Phone: 374-2900 Tree of Life Food Pantry provides food for the residents of the eight towns of the Blue Hill peninsula: Blue Hill, Brooklin, Brooksville, Castine, Orland, Penobscot, Sedgwick, and Surry. However, residents who need food and who live in other towns may come to the Pantry for assistance on a more limited basis. No one is turned away. The atmosphere is warm and friendly.
TheTurnStyle Thrift Shop sells high quality used clothing for women, men and children in addition to accessories and linens. Clothing donations are always welcome and only the best clothes are sold in the shop. Money from theTurnStyle is used to buy food for Tree of Life. Hours: Tuesday &  Saturday 10am-3pm, Thursday 10am-5pm.  Phone: 374-9181
Over 100 volunteers help in the Thrift Shop and Pantry. They sort clothing, unload the truck, stock shelves, assist patrons, run donation drives, in addition to many other tasks. We always welcome new volunteers and are eager to talk with you about helping us!
Volunteers Needed
The TurnStyle is in need of volunteers who can help by sorting donations, ironing donations, stocking and organizing the showroom and working at the sales counter. If you are interested, email Volunteer23tol@gmail.com.
Fashion Show Blue Hill Fundraiser 2018
Many thanks to the Fashion Show team, models, sponsors and volunteers. In addition to raising $5,000 for the pantry, the entire community was treated to the most wonderful, joyful, inspiring event. In case you missed it, here is a slideshow/video by Chek Wingo.
The Tree of Life is a 501-C-3 organization.
Tax Deductible contributions may be mailed to:
The Tree of Life PO Box 1329 Blue Hill, ME 04614
or you can pay with credit card or direct bank transfer via PayPal.